MFRW's Week 39 Blog Prompt: Favorite TV Show of all time? Why?
I've become hooked on a number of TV shows over the years – and have even become moderately obsessed with others. I went positively gaga over The Walking Dead. I watched every season of Orange is the New Black. I witnessed Walter's downward spiral in Breaking Bad and felt a number of emotions including outrage as I feverishly watched the first three seasons of The Handmaid's Tale (and am currently experiencing a ridiculous amount of frustration as I impatiently await the next season).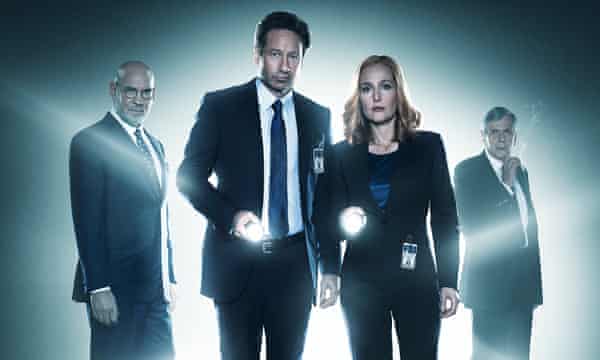 I don't have a particular genre that I enjoy more than another. As long as there's good storytelling, acting, and dialogue, I'm all in. However, there has only been one show that – in my opinion – has had it all: drama, original storylines, humor, cooky conspiracy theories, an intelligent, fiery heroine, and her handsome, somewhat eccentric wise-cracking partner – and at its core an untouchable friendship comprised of an underlying sexual tension. I am, of course, talking about Special Agents Dana Scully and Fox Mulder and the formula that cooked up The X-Files. This formula has since been replicated, but not as successfully. Every week, I was on tenterhooks
waiting to see what sorts of shenanigans Mulder and Scully would get themselves into. Every week, when presented with an unsolved case, Mulder would present a crazy theory backed by no evidence, Scully would scoff and roll her eyes, tell him he was ridiculous, and by the end of it, Mulder's crazy, ridiculous theory would turn out to be correct. It was predictable in this manner, but it was fun all the same.
Perhaps the most enjoyable part, other than the creative, paranormal storylines, was Mulder and Scully's interactions. Their chemistry was obvious, but it was deliberately downplayed by creator Chris Carter, who insisted that Mulder and Scully would never become romantically involved. Eventually, however, even Carter couldn't deny the onscreen romance he'd created, and he jumped onboard the 'Ship Wagon. When Scully became pregnant on the show, it was only confirmed later that the characters had, in fact, been carrying on an off-screen romance for some time. Perhaps, in retrospect, it was a calculated move on Carter's part: The more he told fans a romance wasn't in the cards for their favorite characters, the more they'd want it!
Powered by Linky Tools
Click here to enter your link and view this Linky Tools list…